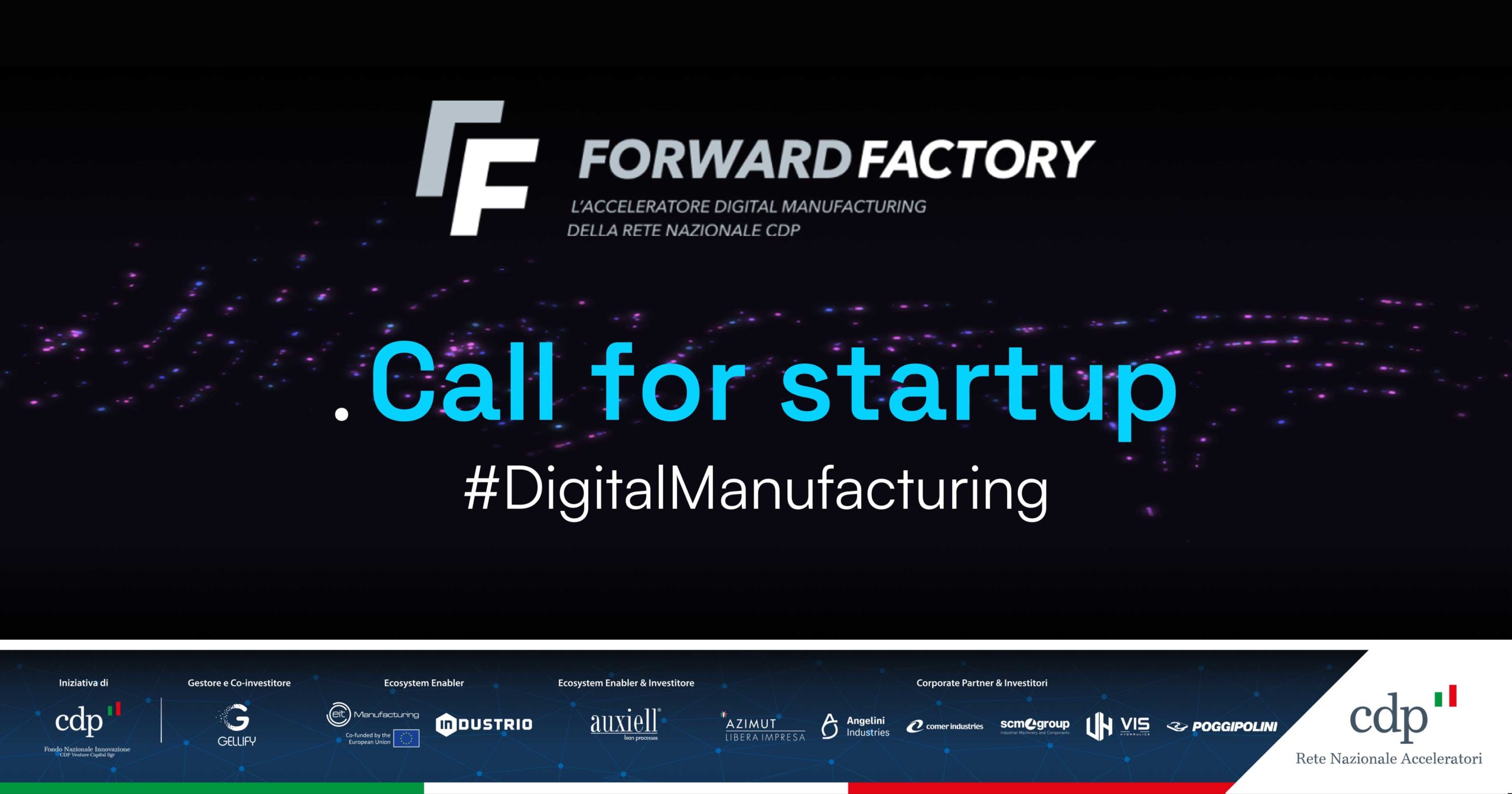 25 Feb

Forward Factory: accelerator dedicated to digital manufacturing launches a call for start-ups

Forward Factory is a program created thanks to the initiative of CDP Venture Capital SGR and managed by GELLIFY in collaboration with Azimut Libera Impresa (through Digitech Fund) and numerous companies operating in the industrial and manufacturing sectors, such as: Comer Industries, Angelini Industries, SCM Group, Vis Hydraulics and Poggipolini, auxiell, Industrio Ventures and EIT Manufacturing.

"Industrial manufacturing has been completely revolutionized by digital transformation, which has brought radical changes in design and work, experimenting with new production models and redefining the value chain on a global scale" comments Francesca Bria, President of CDP Venture Capital SGR.
Acceleration program
The program is oriented at seed stage and early stage start-ups that offer digital services able to innovate manufacturing production processes through blockchain, AR, VR, industrial IoT, AI and big data, cyber security, cloud computing and digital robotics.
During the acceleration program, startups will have the opportunity to access vertical content to grow their entrepreneurial and technical skills, working side by side with program managers, ecosystem enablers and investing manufacturing companies until the design and implementation of a POC (Proof-of-Concept), which each startup will have the opportunity to present and promote during the final Demo Day.
Forward Factory will be based in Casalecchio di Reno (BO) at the Phygital Hub GELLIFY and can be followed by the participating startups in hybrid mode: in person and online. The startups (Italian or foreign who want to establish a headquarters in Italy) can apply until April 8th 2022 by clicking here to be among 10 selected start-ups who receive an investment of 165k € and access a 6-months long acceleration program.
Lucia Chierchia, Forward Factory Manufacturing Lead, suggests three tips for startups that apply. "Don't fall in love (too much) with your technology but focus on developing the value proposition and customers. Define and validate the value proposition, through targeted projects with trusted customers, which can give you a real perception of the market. Build your team day after day, because you are a company made up of people and not a mere technology. "
For details visit the Forward Factory website.